Tracking Classes
We have been instructing students in tracking since 1978. Individuals have received degrees in both Canada and the U.S.A at TD and TDX levels through our classes. We strive to have limited enrollment in these classes of three dogs or less in order to maximize the amount of personal teaching that a tracking dog and handler may need.
Classes are given during the week , depending on enrollment. Private classes are also available upon request.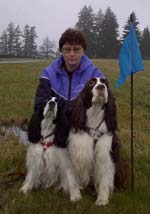 The photo to the left shows Terrie Simpson with her two English Springer Spaniels, Buddy and Amie. Terrie has been involved in tracking for a number of years. Terrie and her dogs have earned tracking degrees, both in Canada and the U.S.A.
Please go to our degrees page to see all the titles that these dogs have earned with Terrie.