Therapy Dog – Laurel and Beau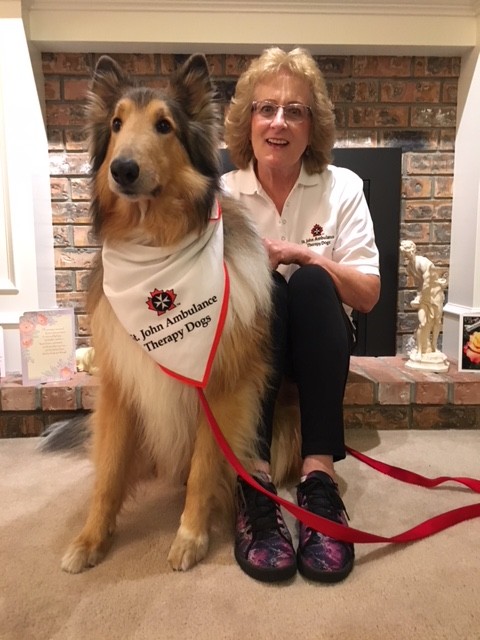 My husband and I adopted Beau as a 9 week old puppy. We had reluctantly said good bye to our rescued collie, and our kids found a litter of puppies available in Alberta, Beau is our 3rd collie; I have always loved them for their gentle, non aggressive nature and of course, their beauty.
Beau is now 7 years old and still loves meeting people and other dogs. When on his walk, he will be quite disappointed if people don't stop and talk to him. When meeting other dogs, he often pulled so hard on the leash that he almost pulled me over if I was not prepared.
Being in healthcare, l know how much visiting animals can do for people! Because l feel Beau has so much to offer people, I really wanted to do hospital visitation with him. But I knew Beau was not quite ready for the job.
Beau and I joined Surrey Dog Obedience Training Club and did a Obedience class with Gary. I learned how to correct Beau's bad habits; now I am in control of Beau as his handler. I feel its very important to know my dog well and be able to predict his behaviour in any situation in order to intervene early and avoid problems as we visit patients.
Beau and I recently passed the Saint John Ambulance Therapy Dog Certification program. We are excited to start hospital visits very soon!