Surrey D.O.T.C Degrees and Awards
1978 – 2021
We at the Surrey Dog Obedience Training Club wish to acknowledge the success of the following students receiving CKC and AKC Degrees in Obedience & Tracking since the inception of our training classes. If you wish to view a list of all these students, click here.
If you would like to see all the students who have taken tracking classes from us over the years, click here.
It is also fitting that students having part bred or pure bred dogs should be recognized for all the hard work that they have put into training their dogs in the classes. Realizing this fact, Surrey Dog Obedience began, at the inception of their obedience training program in 1978, to give awards to top dogs and handlers within each category. Special awards are also given to young handlers between 10 and 16 years old. A list of all the individuals can be found here.
Starting with our January 1999 obedience classes, we wish to acknowledge the first, second, and third placings in each of our graduation classes. We run six sets of seven week courses during the year. You can view the results here.
If you have taken our classes and have not been recorded on this page, or there is an error in your entry, please e-mail Gary at gary_roe@gentlepaws.com with your information.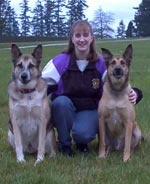 The picture to the left features Christine Woodley with Skimo M.A.D.C. (2000), F.D CH. (1996), Masters Agility Dog of Canada (Shepherd X Husky) and Quinn A.A.D.C. (2000), F.D. CH (1998), Advanced Agility Dog of Canada, Flyball dog champion, MADC (Masters) in Flyball, FM (Flyball Master) in Flyball, (Malinios X Border Collie).