About Us
Your Trainers, Gary and Shirley, have trained together more the 8000 dogs through their owners since 1978 (42years). Going into 2021 now.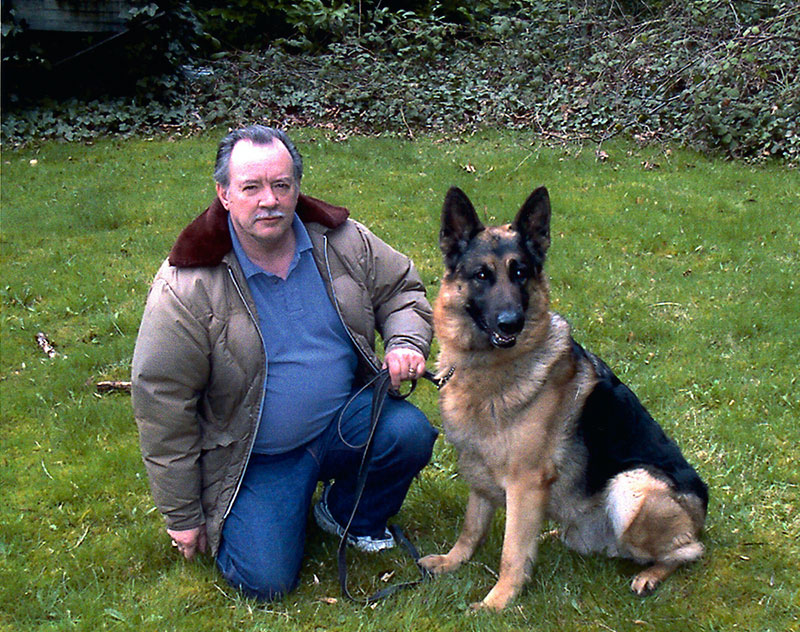 Gary Roe
Was trainer with Sudela Dog Obedience Training Club for five (5) years in Tracking.
Have now trained forty two (42) years for Surrey Dog Obedience Training Club in Tracking, Advanced Obedience Classes and Dog Behavioural.
Has shown a dog to Obedience Trial Champion, Amory of Cedar Hills in Canada and competed and obtained degrees in the U.S. in Tracking with other owned and trained German Shepherds.
Is a Canadian Kennel Club Tracking Test Judge since 1985 in Canada and since 1990 in the United States of America.
Is an instructor in Tracking Levels (T.D.), Tracking Dog Excellent (T.D.X.), Urban Tracking Dog (UDT) and Urban Tracking Excellent (UTDX) Has worked with 471 tracking dogs and their handlers from 1978 to present time. (See List of students on website).
Was the Canadian Kennel Club Tracking Representative for the Lower Mainland and Vancouver Island ( Zone 11 BC Southwest) for 16 years.
Article written in the Province Newspaper referred as the Dog Whisperer in this area.    Newspaper Heading    " Whisperer helps dogs heal ".
Did a video on the Life Channel with Dr. Stanely Coren on tracking.
Shirley Roe
Worked as a trainer with Sudela Dog Obedience Training Club for five (5) years in both obedience and tracking.
Assisted putting on tracking trials with Sudela Dog Obedience Training Club.
Is a trainer for Surrey Dog Obedience Training Club since 1978 instructing in Puppy Kindergarten and Beginners Obedience classes.
Trained and showed in Canadian Kennel Club (CKC) Trials in both Obedience and Tracking Trials.
Attained a Tracking Dog and Tracking Dog Excellent degree with German Shepherd Dog , Faro Von Falkinstein in both Canada and U.S.A.
Attained an Obedience Trial Champion degree in Canada and a Companion Dog degree (CD) in the USA.